Island Life
What we do in the Winter
After all our New Year guests had left we closed the doors for four weeks to get some work done in the lodges. One of our main jobs this winter is to strip and revarnish the floors in Beech and Willow lodges. The floors are now ready for the varnish, but 'Storm Brendan' with it's pesky 60mph hour winds has led to the boats being off today, so we're hoping to start the varnishing tomorrow. If you want to check out our lovely new floors for yourself then we are re-open from the start of February all the way through until the end of the year!
Dervaig Seafood Extravaganza
We don't get out very much during the summer, but we made an exception on Saturday night to go to the Seafood extravaganza in Dervaig village hall. Six courses of the finest food, including an enormous seafood platter.
It's a once a year event but you can sample amazing food like this at some of Mull's fantastic restaurants. The chef for the evening was Helen Swinbanks who runs the Hebridean Lodge in Tobermory, one of our favourites. Why not treat yourself when you next stay with us!
www.hebrideanlodge.co.uk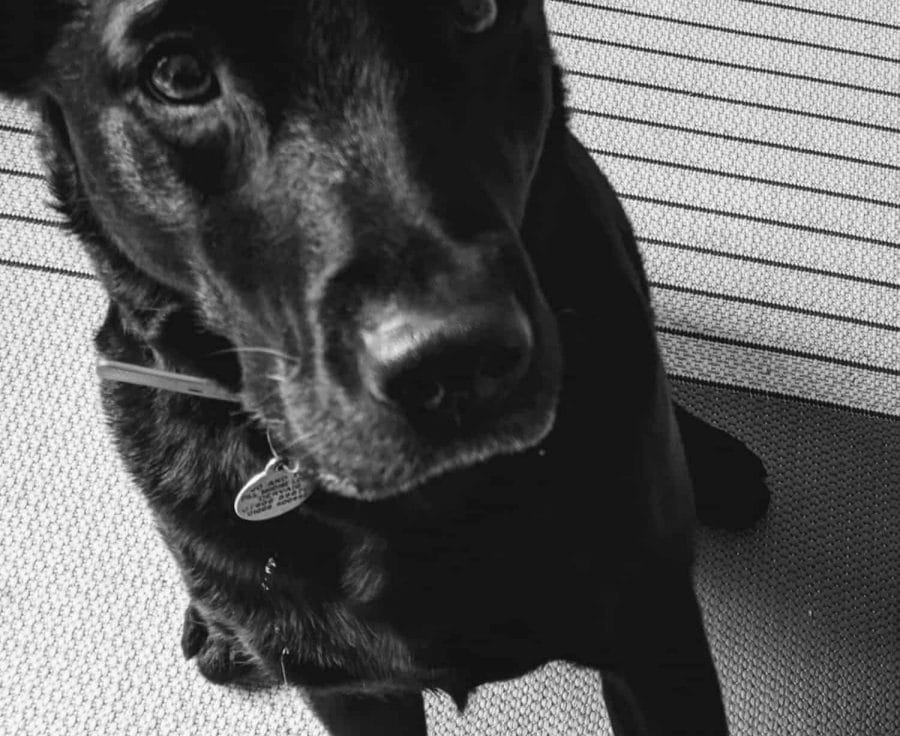 Fancy a last minute break?
We've promised Fuggle extra treats if we can fill the remaining gaps in September.
So here she is doing her best begging face. As an incentive she's asked us to take 10% off the standard rates.
September can have the most lovely weather and it's so nice seeing the landscape change. Come and see!
Trip Advisor Certificate of Excellence 2019
Congratulations to us!
We're been awarded a Certificate of Excellence for all of our lovely lodges AND we've also just been given 'Superhost' status on Airbnb. Yay!
Naturally, we always prefer it if you book with us directly – both Trip Advisor and Airbnb add fees on for both guests and us so it's always cheaper to book with us directly.
It's a great boost for us though and shows that we're getting things right.
Me and my tractor
Whilst Tom does the hard work with the push behind mower, I'm never happier than when I'm pottering around on my supercool mower. I was keeping an eye out on those clouds but they never amounted to anything.
We've had some amazing weather this week – bright and sunny with a lovely fresh breeze and our guests have all been relaxing on their patios on an evening with a glass or two.
We've still got a couple of gaps to fill in July, now with a lovely discount – why not come and see us – I might even let you have a play on my tractor 🙂
A Beautiful Time of the Year
Everything is growing (even the grass – sob), the flora and fauna are coming out of hibernation and the garden is looking its prettiest. The Azalea in the picture from looking quite sad last year has come back in force, one of the early risers…
We are busy as well just now with the only availability in May being 13-17 in Sycamore Lodge we can offer 10% of the listed price please contact us directly to take advantage of this.
Cill Mhoire dogs looking cute
Our pups  are very lucky to have a range of comfy dog beds all over the house. Despite this, their favourite thing to do is to cuddle up together. Here they are in their Trover coats after a wet and muddy walk through the forest squished up in Simcoe's crate.
Dogs are made hugely welcome at Cill Mhoire – we even make sure there are some treats waiting for them if they're hungry after their long journey to Mull
Preparations for the season are nearly finished!
After a week away with friends and family we're now ready for the season!
We've been painting our little socks off and our lodges now look shiny and fresh and definitely less orange than they used to be. We've still got a few bits to finish but we reckon they look lovely. Come and see for yourself!
Is the Mull Rally back?
Well the public response to government consultation was overwhelmingly positive. It's now with Scot Gov to decide and whilst no formal decision has been made we (and most of the rest of this western isle) are keeping our fingers crossed. Since we took over no rally car has been driven past us in anger and it's long overdue.
Local geese on the look out