Island Life
Escape to the mainland
We don't leave Mull very often, but when we do, we make the most of it! A full day in Oban – shopping, opticians, dentist and then a wee treat on the boat on the way back.
The evening sky
We've been having glorious weather for the past few weeks – the evenings are getting longer and we've had some amazing skies. We've got availability left in April if you fancy a short break with us – for a limited time a three night break can start any day of the week.
Autumn in Mull
We love watching the seasons change and Autumn has definitely arrived. Mull is getting quieter now, some of the restaurants and cafes have closed until next year and the shops are reducing their hours. The hills and beaches and pathways stay open all year round though, as do we!
If you want to escape for a few days our availability calendar is always up to date and online.
Fun family times
We've had a great week with family and for once, we managed to leave site and do lots of fun things! We finally visited the aquarium, we've been building sandcastles, going on boat trips and, my favourite thing, crabbing in Tobermory. Sadly we're back on our own again and about the tackle all the jobs we avoided whilst doing the fun things!
Sad times at Cill-Mhoire
Those of you who have visited us over the last five years will have met our two 'assistants', Fuggle and Simcoe.
Sadly we lost Simcoe recently. She had a degenerative spinal issue that even the best vets couldn't fix and on their advice we let her go.
We'll always miss her x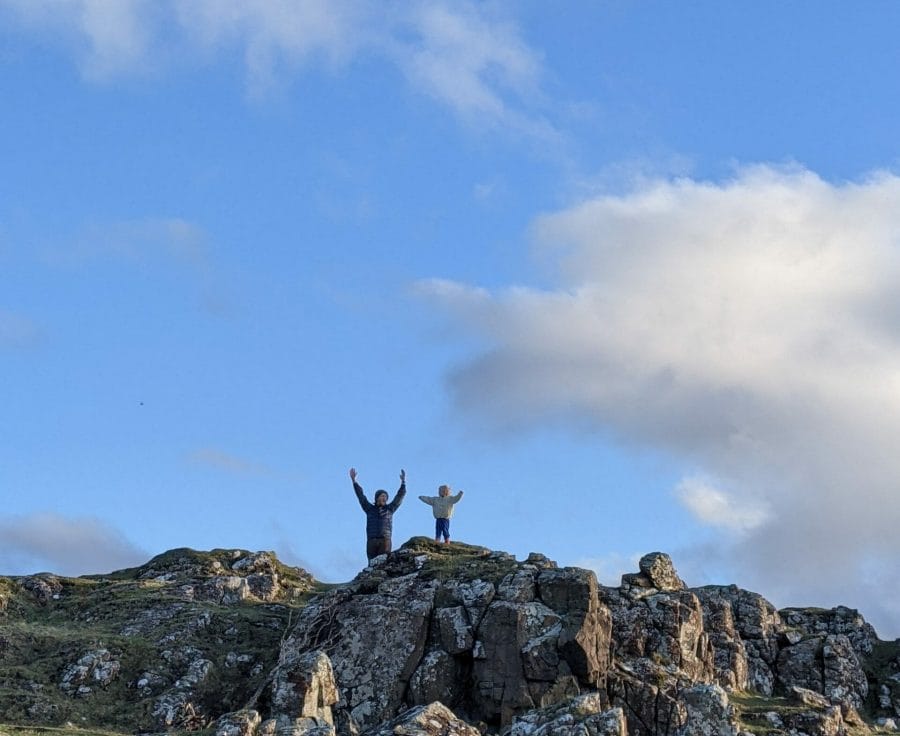 Christmas on the beach
We had Tom's family visit us over Christmas and had great times exploring and climbing on some of Mull's best beaches, including on the rocks above Traigh na Cille beach near Torloisk. Christmas and New Year here can be magical – why not think ahead to 2022 and book your Winter stay with us!
The longest day
It was a lovely evening watching the sun set over the longest day. The weather has been amazing this week – long may it last!
Uncovering the past
Down at the bottom of the garden near to the road are the remains of the old cart track. It has lovely mossy stone sides and we have wanted to try and uncover it and restore it for a while now.
A recent spell of windy weather meant the largest of the trees covering the path was damaged and needed cutting down giving us the perfect opportunity to start work. It also meant Tom could use the chain saw so he was happy.
The night sky
We've had some amazing skies here recently but we're rubbish at photography so we have had to rely on Dani who was staying with us in Willow lodge last week and shared this lovely night sky with us.
We've still got a few gaps and some Autumn availability – why don't you join us in some star gazing? If you're really lucky you might get to see the Northern Lights too!
An update on tourism on Mull
Well this is turning out to be quite the year.
The Scottish government have now published their roadmap for reopening various sectors of the economy. Tourism, including self catering accommodation, has been given a date of 15 July.
Your safety is paramount to us and we are being guided by detailed cleaning and sanitising guidelines which have been published by the Association of Scotland's Self Caterers, along with other organisations. In brief, the equivalent of a deep clean followed by sanitation will be carried out between each let.
We will be staggering arrival days and opening up to any day arrival to ensure that we never have more than two lodges to prepare in one day. This way we can be sure that we have prepared your lodge to the very best standard.
If you have been to stay with us before you will notice some changes in your accommodation. This is all based on the guidelines we are working to. We will have to strip out non essential items such as books and games. We are also advised to remove throws from beds and sofas.
We're not entirely sure what will be open in the way of restaurants and cafes. What will be open will be the great outdoors. So if you're willing to accept some compromises but you want a change of scenery and fresh air then that's all still available.
Anyway – the photo is of the sky at midnight last night. Lovely noctilucent clouds 🙂
Local geese on the look out